ABOUT THE INTERNATIONAL CANCER CONTROL PARTNERSHIP (ICCP)

The International Cancer Control Partnership (ICCP), formed in November 2012, is a group of organizations whose members were already individually working to support country cancer control planning efforts. Now, these organizations work together on identified priorities to maximize their collective resources and avoid duplication of effort.
Download ICCP one-pager for an overview of the partnership and its activities and the executive summary of ICCP Strategic Plan 2018-2023. You can also consult a list of ICCP related publications, reports and blog posts written by the ICCP partners or mentioning the ICCP partnership and its portal.
The long-term outcome that the ICCP is working towards is that all countries have and are implementing a quality cancer control plan, which is linked to a country's non-communicable disease (NCD) control efforts. The ICCP believes that prioritizing cancer is critical to reaching the NCD goal within Global Monitoring Framework on NCDs, the WHO Global Action Plan on NCDs and the UN Sustainable Development Goals.  
All countries have and are implementing an equity-oriented, person-centered, context appropriate NCCP.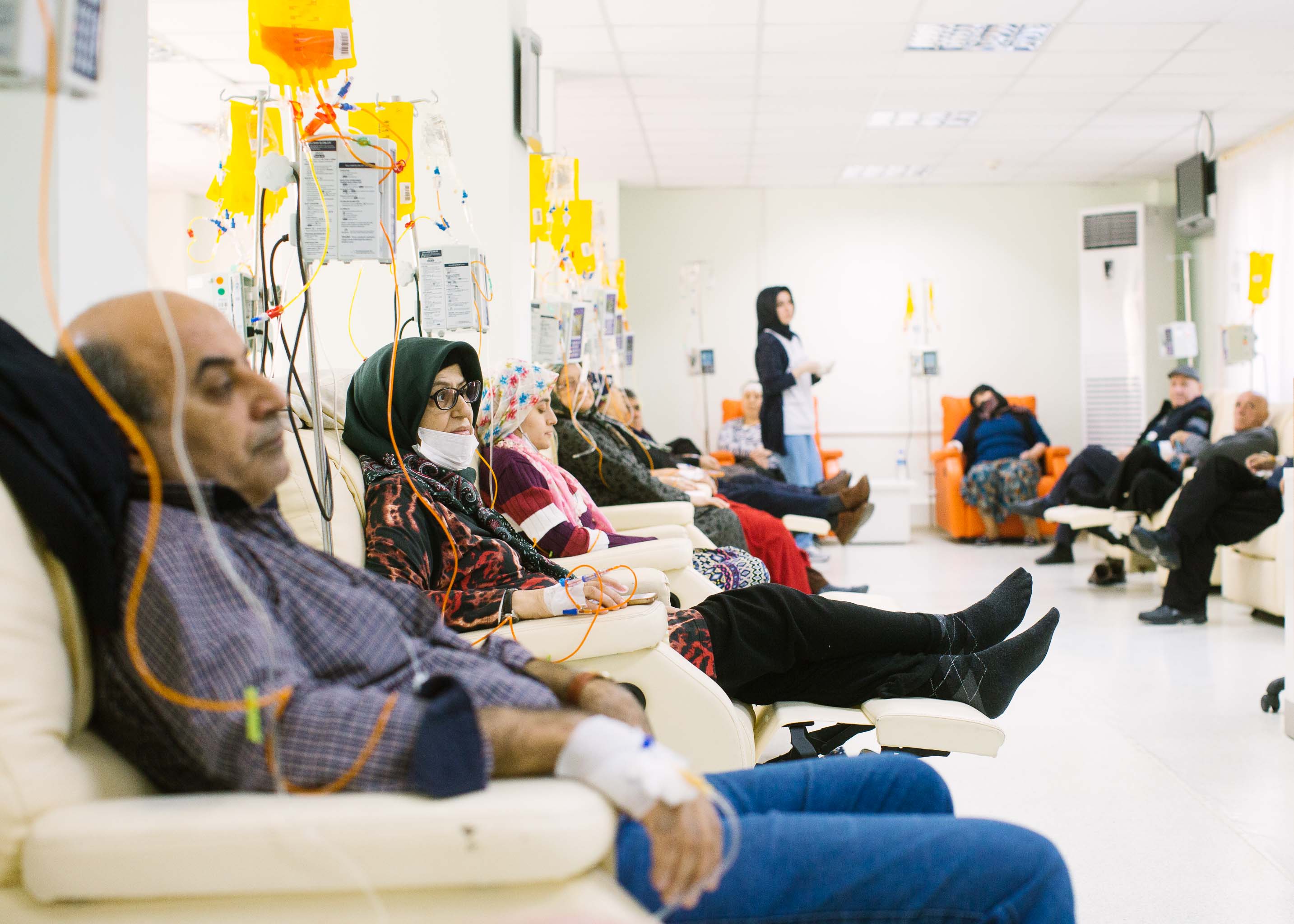 MISSION STATEMENT
The ICCP coordinates expertise and guidance to national cancer control planning stakeholders and decisionmakers in their efforts to develop, implement and evaluate data-driven, stakeholder-informed, and equity-oriented national cancer control plans. ICCP efforts are integrated and in alignment with the United Nations Sustainable Development Goals to reduce premature mortality from non-communicable diseases including cancer.
The development of an effective population-based NCCP should address the social determinants of health, prevention, early detection, diagnosis, treatment, rehabilitation, palliative care and survivorship at all health system and societal levels (home, community and specialist care settings).
As a collaborative partnership, ICCP aims to support all countries in their response to the NCCP challenge in providing advice across the cycle of planning, development, implementation, monitoring and evaluation including periodic assessment revision and adjustment.
The ICCP works to showcase opportunities and foster best practice partnerships across non-communicable diseases, build new synergies with existing health programmes and put high level NCD commitments into practice through:
Advocacy at global and local levels
Providing a one-stop-shop of best practice resources, including a tool for initiating plans and a searchable database of published NCCPs
Addressing data gaps for stepwise development, phased implementation and scale up
Responding to requests for technical assistance from low income countries
Partnership Priorities
Advocate that countries make cancer control a priority Use ICCP networks to reach out to country decision-makers to encourage them to make cancer control a priority
Jointly assist countries to develop and implement quality cancer plans
Work within the ICCP to coordinate efforts around development and dissemination of cancer control planning materials and tools, technical assistance and training, and to address data gaps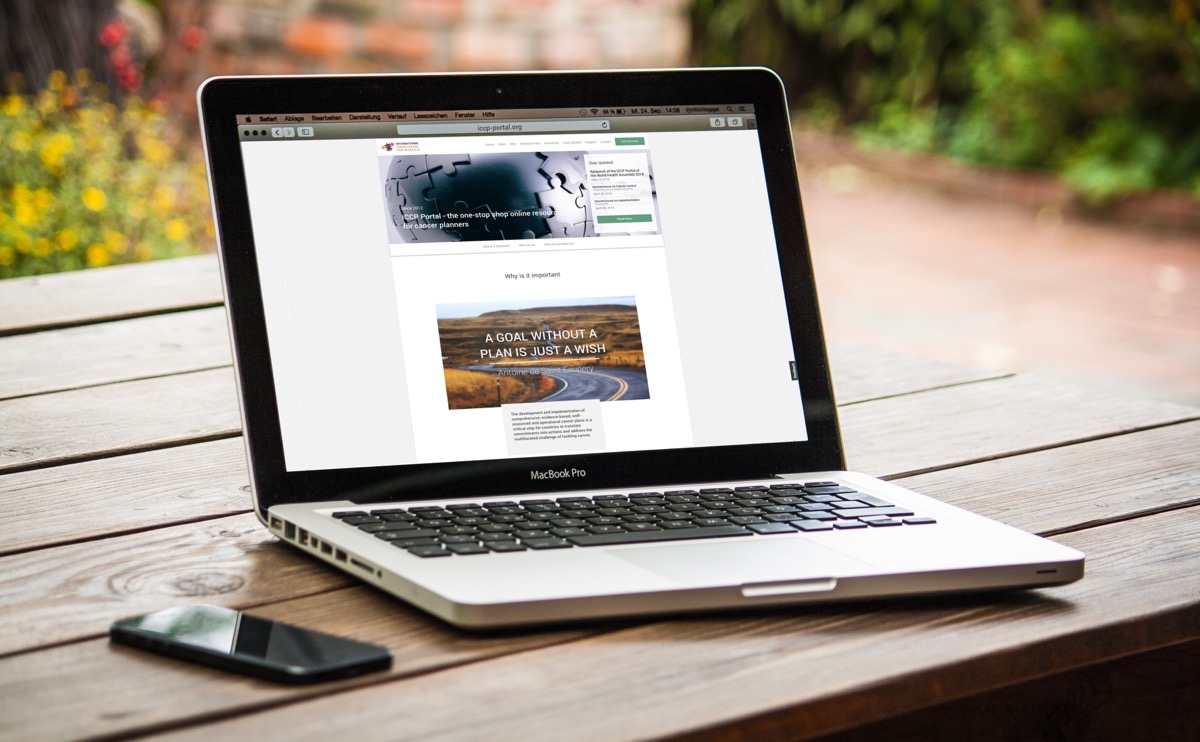 The ICCP portal is a unique initiative that brings the experience and best practice knowledge of leading cancer organizations and experts and offers policy-makers and cancer planners an online platform, dedicated to providing selected resources and tools on cancer control all in the convenience of ONE PLACE. Launched by the International Cancer Control Partnership (ICCP) in November 2013 at the World Cancer Leaders' Summit, the ICCP Portal is a web-based tool on cancer control planning and capacity-building, linked to non-communicable diseases (NCD) control and prevention.
WHAT DOES THE ICCP PORTAL OFFER?
The ICCP portal primarily aims to present the "International Cancer Control Partnership" and assist policy makers and cancer planners in providing access to: Selected resources on planning and capacity-building for cancer control: Searching for a toolkit on how to develop your national cancer control plan (NCCP)? Or looking for a costing tool to implement policies? 
Then the library of resources is the place for you.
The library of resources provides access to materials and tools on cancer control planning and capacity-building at local, national and regional levels. National cancer plans: What are other countries doing in the field of cancer control? Find out with our map of published national cancer and NCD plans. You can perform a search on more than 100 cancer plans and emerging NCD plans on a specific topic or area along the cancer care continuum.
Best practices and experience:
Take the opportunity to learn from one another. The ICCP Portal presents case studies on experiences in the field of cancer control. 
Technical assistance opportunities: Need some help with technical assistance?
The Portal provides opportunities to access technical assistance from Partners and places you in contact with stakeholders. Global cancer control initiatives and policy: Are you up-to-date with global initiatives?
The Portal showcases global initiatives on cancer control helping you to access the right support to build your next steps towards global commitments on non-communicable diseases and cancer control.
The International Cancer Control Partnership is committed to building on the initial features of the ICCP Portal by expanding its content and functionalities in response to user feedback. Please visit the portal and its site map and tell us what priority areas you are seeking help in.
ARE THE PRIORITIES OF YOUR REGION COVERED?
Let us know what gaps you have found. Tell us what features you would like to see in order to help your national response to management of the rising cancer burden.
Contact us at iccp@uicc.org.
HOW TO GET INVOLVED?
Become involved in the ICCP Portal in numerous ways: send us your updated national cancer plan and NCD plan; tell us the status of your country's cancer registration; offer to share your experience as a case study; suggest new resources to feature in the Library; join us as a Partner.
To become involved please contact us.
CONDITIONAL USE OF THIS SITE AND/OR APP:
Your access to and use of this website and/or app and its contents (the "Site") is subject to the terms and conditions of this Privacy Policy ("Privacy Policy" or "Policy"), and all applicable laws. By accessing and using this Site, you (the "User" or "you") accept and agree to these without any limitation or qualification.
TERMS OF USE:
Your use of this Site is also subject to the Terms and Conditions posted on this Site ("Terms and Conditions").
Privacy Notice
This Privacy Notice describes how your personal data is processed when you visit and use this website ("Site"). In this Privacy Notice, "we", "us" or "our" refers to Union for International Cancer Control ("UICC") as the operator and controller of the Site. 
Union for International Cancer Control (UICC)
31-33 Avenue Giuseppe Motta,
1202 Geneva – Switzerland
Telephone +41 22 809 18 11
Federal Trade Register No. CHE-107.751.349
Collection and Use of Personal Data
When accessing our Site, the following data is stored in log files: Your IP address, date and time of your access, browser request and general information about your operating system and browser. This usage data forms the basis for statistical, anonymous analysis in order to identify trends to further improve our Site and our offers accordingly and to enhance your experience when visiting our Site.
Most areas of our Site do not require any form of registration or the provision of specific personal data. You may need to provide limited personal data in order to receive certain information and services from us. If you provide personal data about other people - for example, your family or other authorised representatives, we rely on you to tell those people that you are giving their personal data to us and to make them aware of this Privacy Notice to the extent relevant.
For example, the following services require registration:
You can sign up for news and updates by email where such service is provided on the Site. Only basic personal data, such as your name, address and email address are needed for registration.
For verification purposes, we will send you a confirmation email immediately after you have finished the registration process. During this process, we may also store your IP address and the date and time of registration. The personal data collected as part of your registration will be used for sending you our news and/or other updates.
Our newsletters contain tracking pixels which enable log file recording for statistical analysis of our newsletter campaigns. We may see whether and when an email was opened, and which links in the email were activated. We use Mailchimp, The Rocket Science Group, LLC 675 Ponce de Leon Ave NE Suite 5000. Atlanta, GA 30308 USA as our email marketing service. We only store your email address for email marketing services.
You may opt out from receiving any, or all, of these communications from us by contacting us via privacy@uicc.org or by following the unsubscribe link or instructions in any email we send you. Please note that changes may not become effective immediately.
You may use a contact form (where provided) in order to ask questions about us or our products and services. When using the contact form, you will be asked to provide personal data such as your name and email address and a message you want to deliver to us. You may also contact us by writing to us directly via email where we have provided a specific email address. We may use such information to get in touch with you or to reply to your message.
You may use a submit an event form (where provided) in order to publicise an event you are involved in / organising. When using the event submission form, you will be asked to provide personal data such as your name, email address and information related to the event (including its location). Please note that this information will be published on the website and that we (and others) may use such information to get in touch with you about the event submission or the event.
Occasionally, we conduct surveys via our Site or third party tools (such as SurveyMonkey). In addition to your opinion or feedback, you may be asked to provide personal data. The type of data collected depends on the survey; we will use the data only as indicated in the survey.
You can attend our events and subscribe online to calendar alerts sending a notification to your email address when a particular event is due, where such service is provided on the Site. You can unsubscribe from an alert at any time on the same page of the Site. Where registration is necessary, we enable it via our Site or the websites of third parties. In such case, personal data may be collected through the registration forms for events; the type of collected data depends on the event. We may forward the personal data of registered persons in connection with an event to third parties, such as, among others, hotels, sponsors, hosts, or organizers (including those accessed via the websites of third parties). Depending on the type of event, we may offer an Event App that will be used to facilitate your participation and networking at the event. In this case, your personal data may be used to create your account in the App, hosted by a third party but administered by UICC.
Further services
Disclosure of Personal Data
We may disclose your personal data to the following recipients and for the following purposes:
To our service providers; these service providers, sub-contractors and subsidiaries include providers of information technology, identity management, website hosting and management, data analysis, data back-up, security and storage services;
If you expressly request us to do so;
If the disclosure is necessary to comply with a court order or a legal or regulatory requirement; or
We may from time to time disclose contact information between members as part of our membership services to put them in touch with each other.
Our service providers may be located outside the country where a visitor is located. As a result, a visitor's information may be transferred outside the country where they are located. All our service providers are contractually bound to process personal data only on our behalf and in accordance with our instructions. We also oblige them to comply with technical and organisational measures ensuring the protection and security of personal data. If a service provider is located in a country where the applicable laws do not provide an adequate level of protection for personal data, we will ensure by appropriate means that the respective data recipients maintain such adequate level of data protection.
The third parties will only use personal data for the agreed purpose and not sell it to third parties or market it otherwise.
Security and Confidentiality
To ensure the security and confidentiality of personal data collected online, we use data networks protected, inter alia, by industry standard firewall and password protection. In the course of handling your personal data, we take measures reasonably designed to protect such data from loss, misuse, unauthorized access, disclosure, alteration or destruction.
Social Plug-ins
Our Site contains links to the external social networks such as Facebook, Twitter, Instagram, YouTube and LinkedIn and you may share on social networks the content of our Site.
This Site uses a safe sharing tool which establishes a direct contact between the social networks and users only after users click on one of the respective buttons. This tool does not automatically transfer user data to the operators of such platforms. If users are logged into one or more of the social networks, the use of social buttons for Facebook, Twitter, etc. will display an information window in which the user can confirm the text before it is sent. The user can share the content of this Site on social networks without their providers creating profiles of users' surfing behavior.
Cookies
Cookies are text files placed on your device to help analyze how you use our Site. After the browser session, most of the cookies we use are deleted from your device (session cookies). Other cookies remain on your device (permanent cookies) and permit its recognition at your next visit to our Site. This allows us to better serve you with tailored information and to facilitate your on-going access to, and use of, the Site. If you are uncomfortable with the use of cookies, you can manage and control them through your browser, including removing cookies by deleting them from your 'browser history' (cache) when you leave the Site. Please note that deactivating cookies may affect your browsing experience.
Google Analytics
This Site uses Google Analytics, a web analytics service provided by Google, Inc. ("Google"). Google Analytics uses cookies to help the Site analyse how users use the Site. The information generated by the cookie about your use of the Site will be transmitted to and stored by Google on servers in the United States and stored there. In case of activated IP anonymization on this Site, however, your IP address is previously truncated by Google within member states of the European Union or in other states which are party to the agreement on the European Economic Area. Only in exceptional cases is a full IP address transmitted to a Google server in the United States and truncated there. On our behalf, Google will use this information to evaluate your use of our Site, compile reports about Site activities, and provide us with further services related to Site and Internet usage. The IP address sent from your browser as part of Google Analytics is not merged with other data by Google. You can prevent storage of cookies by appropriately setting your browser software; in this case, however, please note that you might not be able to fully use all functions offered by our Site. In addition, you can prevent data generated by the cookie and relating to your use of our Site (including your IP address) from being collected and processed by Google, by downloading and installing a browser plug-in from the following link: http://tools.google.com/dlpage/gaoptout?hl=en(link is external).
This Site uses Google Analytics with the extension "anonymizeIP()"; IP addresses are therefore truncated before further processing in order to rule out direct associations to persons.
Your Rights
We will delete the personal data collected about you if all processing purposes have been fulfilled unless statutory retention obligations apply.
You have the right to request access to, or transfer of, the personal data we process about you, to request correction of any incorrect personal data, restriction of access to, and deletion of, personal data, always to the extent these rights are granted by applicable. Furthermore, if you believe that your rights granted by applicable data protection laws have been infringed, you may lodge a complaint with the competent data protection authority.
For questions or queries please contact us at: privacy@uicc.org or write to Maria Barbara Leon, 31-33 Avenue Giuseppe-Motta, 1202 Geneva – Switzerland.
Changes to this Privacy Notice
We keep our Privacy Notice under regular review and may change it at any time. Your continued use of our Site and of our products and services is deemed as your acceptance with any such changes. Changes to the Privacy Notice will be communicated appropriately.
Terms of use
The use of this web site constitutes agreement with the following terms and conditions:
The Union for International Cancer Control (UICC) maintains this website (the "Site") as a courtesy to those who may choose to access the Site ("Users"). The information presented herein is for informative purposes only. UICC grants permission to Users to visit the Site and to download and copy the information, documents and materials (collectively, "Materials") from the Site for the User's personal, non-commercial use, without any right to resell or redistribute them or to compile or create derivative works therefrom, subject to the terms and conditions outlined below, and also subject to more specific restrictions that may apply to specific Material within this Site.
The Union for International Cancer Control (UICC) administers this Site. All Material on this Site from the Union for International Cancer Control (UICC) appears subject to the present Terms and Conditions.
Unless expressly stated otherwise, the findings, interpretations and conclusions expressed in the Materials on this Site do not necessarily represent the views of UICC, its member organizations or partners.
Disclaimer notice
While the Union for International Cancer Control (UICC) endeavours to provide accurate material on its website, it gives no warranty concerning the accuracy of the material provided by this service. Users should refer to the originating bodies or sources of the documents for confirmation of the accuracy of the material.
The Union for International Cancer Control (UICC) provides hypertext links to a number of external sites, but does not accept responsibility for material on these external sites.
The user of the link is responsible for the downloading of any linked material and/or any fees or charges incurred by the downloading of this material. Downloading of images and/or text without the permission of the copyright owner may breach international copyright laws.
The Union for International Cancer Control (UICC) will have no responsibility or liability in relation to any loss or damage which you incur, including damage to your software or hardware, arising from your use of or access to this site.
General
The Union for International Cancer Control (UICC) reserves its exclusive right in its sole discretion to alter, limit or discontinue the Site or any Materials in any respect. The Union for International Cancer Control (UICC) shall have no obligation to take the needs of any User into consideration in connection therewith.
The Union for International Cancer Control (UICC) reserves the right to deny in its sole discretion any user access to this Site or any portion thereof without notice.
No waiver by the Union for International Cancer Control (UICC) of any provision of these Terms and Conditions shall be binding except as set forth in writing and signed by its duly authorised representative.
Unless otherwise noted, information on this site may be freely reproduced by UICC member organisations, with credit given to this source. Others may request permission to use the material.