Global Key Message
For the first time, a generation is making a global commitment to eliminate a cancer. All countries can achieve the elimination threshold of 4/100.000 women in the next century or earlier – averting 70M cases and 62M deaths in the hardest hit, low- and middle-income countries (LMICs).
The 2030 global strategy contains three pillars and coverage targets: 
90% of all girls 9-14 years of age protected by HPV vaccination
70% of women at age 35 and age 45 protected by cervical cancer screening with a precision HPV test
90% access to treatment for all women with precancerous lesions and invasive cervical cancer
Relevant global committments:
World Cancer Declaration targets:
cross-cutting with direct impact on target 4; 6; 7; 8 and 9. Recommended interventions in the
NCD Global Action Plan
,
t
he resolution WHA70.12 on cancer prevention and control in the context of an integrated approach
,
resolution WHA69.2 committing to implementation of the Global Strategy for Women's, Children's and Adolescents' Health
, and resolution WHA69.22 adopting the
Global Health Sector Strategies on HIV, Hepatitis and Sexually Transmitted Infections
and direct contributions to the Sustainable Development Goals (SDGs) and Universal Health Coverage (UHC) agenda. 
The Facts
There is no greater tragedy than a life lost needlessly. 300,000 plus women die each year from cervical cancer, a completely preventable disease, and we continue to see 600,000 new cases annually, with disproportionate disease burden and death occurring in LMICs and in poor, remote, and marginalized groups within countries. After small-scale and unsustainable national efforts, the Global Strategy represents a step-change - with emphasis on a population-based and outcomes-focused scale-up for impact. By making elimination a component of the national SDG response, programmes will tackle inequities and uphold the right of women and girls to health throughout their lives.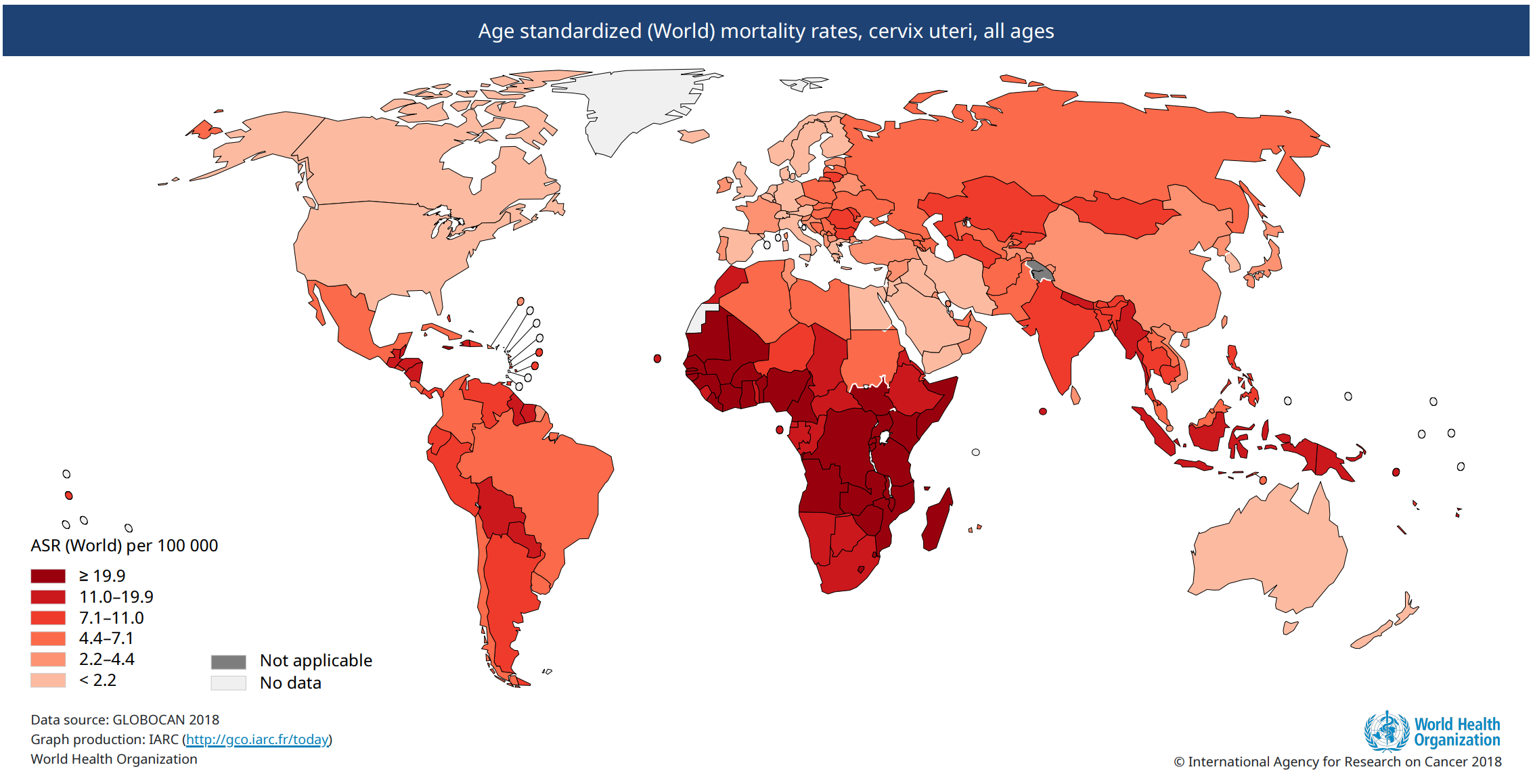 Meeting the Challenge
All countries should update their NCCP or have a dedicated cervical cancer elimination strategy aligned with the global strategy and 2030 targets by 2022.
Three drivers for success in the next ten years are:
a focus on addressing intolerable inequities in access to health information, prevention, early detection, treatment and palliative care services
structuring of cost-effective approaches that progressively realise the targets, ensuring sustainable financial support and social protection
engaging women, including cancer survivors, as agents of change. Making communities the heart of the response and putting women at the centre is essential to eventual success.
Country Example
In 2019 the government of Malaysia made a public commitment to their population to eliminate cervical cancer which despite being largely preventable, is the third most common cancer among Malaysian women with an incidence rate of 10.5 per 100,000 population in 2018.  This commitment was reiterated by the Deputy Minister of Health at the parliament a year later. Malaysia was one of the countries that proposed a draft resolution Cervical cancer prevention and control: accelerating the elimination of cervical cancer as a public health problem on World Cancer Day (4th of February) 2020 (EB146/CONF./5). Anticipating the 90:70:90 three pillar approach of the WHO Global Strategy to accelerate the elimination of cervical cancer as a public health problem, Malaysia reviewed its current programmes and services and the impact which they were having. 
Click here to find out more
 You can also watch a short video about how a partnership between Australia and Malaysia is making strides towards cervical cancer elimination
here